ABV
47%
Region
Germany/Ireland
Bottling
St. Kilian Distillers and Great Northern Distillery (Ireland)
 
Cask type

ex-Bourbon, ex-Rum and ex-Sauternes Casks (2,000 btl.)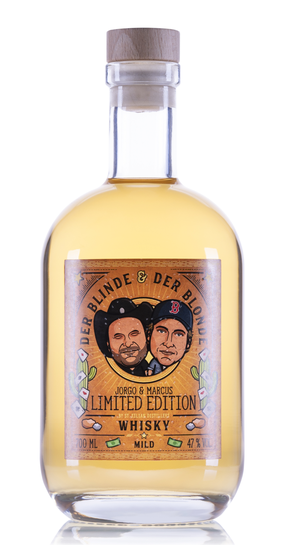 Nose
Fruity on the nose with ripe pears, juicy apricots and pineapple, followed by creamy vanilla and subtle spicy honey. In the background a hint of oak with aromatic oils.
Palate
Full-bodied and fruity on the palate with ripe pears and juicy apricots, accompanied by vanilla cream and warming spices that give a pleasant velvety and oily mouthfeel.
Finish
The finish is long lasting with a creamy spicy melange of honey and malty crunch, rounded off with some dry oak and a subtly oily texture.
With water
After adding water, a little more spicy aromas on the nose, accompanied by vanilla. The fruitiness is a little more discreetly noticeable in the background. Still fruity and creamy on the palate, with more oak spice and warming notes. The fruit appears as creamy jam with a distinctly oily texture. The finish is slightly shorter, creamy with a dry, spicy note towards the end.
Comments
For this limited special bottling, St. Kilian single malts, which were predominantly allowed to mature in ex-Bourbon, ex-rum and ex-sauternes casks, were married with single malt and pot still whiskey from the Great Northern Distillery in Dundalk, Ireland, which matured in American ex-Bourbon barrels. The result is a beguilingly fruity whisky, marked by the typical Irish pot still character, with a velvety smooth composition and oily texture. In addition, the label of the bottle is designed in Braille, which is so far unique in continental Europe. An ideal all-day dram.
I thank St. Kilian Distillers for the complimentary sample and the image!