ABV
50.1%
Region
Germany
Bottling
St. Kilian Distillers
 
Cask type

ex-Madeira Rum Casks (#1354, #1355, 1,380 btl.)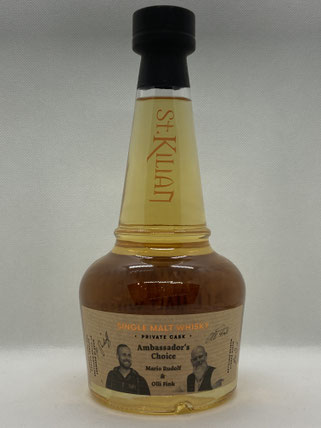 Nose
Immediately lots of tropical fruit notes on the nose with pineapple and coconut chips, complemented by peach, yellow plum and honeydew melon. Mild, aromatic and soft with a touch of oak spice in the background.
Palate
Also mild and fruity on the palate with tropical fruit notes, pineapple, peach and melon, complemented by creamy toffee, vanilla and sweet honey.
Finish
The finish is long-lasting with fruity pineapple, yellow plums and creamy honey, perfectly rounded off by a subtle dry oak spice and a touch of dark caramel.
With water
With water, the tropical fruit notes on the nose become even more intense. The palate continues to be fruity with peach and pineapple, complemented by creamy honey, but also clearly spicier oak notes. The fruity finish is still long-lasting with dry notes of oak and some dark caramel.
Comments
This mild single malt convinces with a wonderful bouquet of tropical fruits, peach, coconut and vanilla. Creamy sweet, seductively fruity and dangerously quaffable. The alcohol is perfectly integrated, so that the addition of water is not necessary at all. Very well chosen, Olli!
I thank St. Kilian Distillers for the complimentary sample!