ABV
58.2%
Region
Germany
Bottling
Distillery
 
Cask type

PX & Oloroso Sherry Cask (#4540)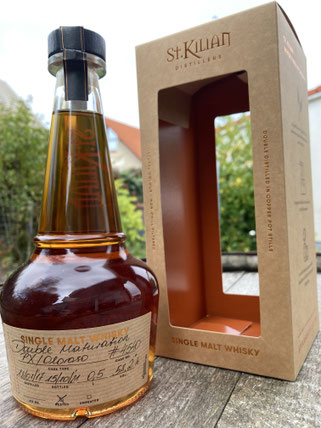 Nose
Immediately sweet peat smoke on the nose, along with burnt caramel, raisins, figs and plums. This is joined by sweet sherry, smoked ham and spicy notes of oak and allspice. In the background a touch of floral tones with some sage and a hint of mint.
Palate
Wonderfully sweet on the palate with sherry, brown sugar, plum compote and raisins. At the same time warming with a slightly alcoholic spiciness, plus peat smoke and spicy oak. As soon as this warmth fades, dry notes of dark chocolate, cocoa, cinnamon and allspice emerge.
Finish
The finish is creamy with caramel, cocoa, dry ash and some allspice. Notes of green walnut and slightly spicy oak linger for a long time with smoke. Great!
With water
After the addition of water, more smoke on the nose, plus dates wrapped in bacon and sherry with a little caramel. The fruit notes are pushed into the background. Clearly more smoke also on the palate with a warming, peppery spiciness. In addition, dry notes of dark chocolate, allspice and oak. Somewhat less sweetness and barely noticeable fruit flavours. The finish is still long and creamy with caramel, dry cocoa, walnut as well as allspice and a touch of spicy oak.
Comments
A fruity-sweet and spicy-smoky single malt that I enjoy very much. Already after four years of maturation, this current hand-filled bottling from St Kilian Distillers shows a nice balance of sweetness, fruit, peat smoke and oak spice. The alcohol is present but already well integrated and, together with the flavours from the sherry casks, ensures a wonderful enjoyment experience. Definitely a dram for the coming cold days!
I thank St. Kilian Distillers for the complimentary sample!