ABV
46%
Region
Germany
Bottling
Distillery
 
Cask type

Ex-Bourbon-, PX-Sherry- and American Oak Octave-Casks (#97, #140, #144 - 350 btl.)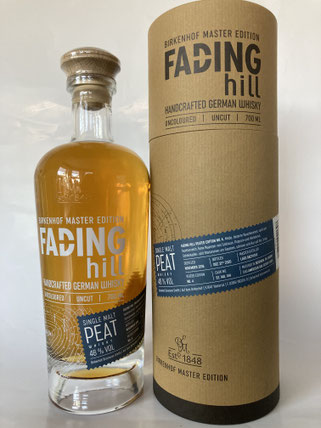 Nose
Sweet and fruity on the nose with vanilla, caramel and yellow fruit. In addition, subtle smoke, paired with a fine herbal note as well as fresh mint and a touch of menthol.
Palate
Creamy and sweet start on the palate with caramel, toffee, barley sugar and vanilla. In addition, subtle smoke and some grilled apricot. Towards the finish, notes of milk chocolate and a touch of ash arrive.
Finish
The finish is medium long, creamy with toffee, plus subtle smoke and some dark chocolate towards the end.
With water
After the addition of a few drops of water fresher on the nose with mint and a hint of apricot. The smoke is somewhat pushed into the background. Sweet on the palate with caramel, apricots and notes of milk chocolate. The finish is medium long and slightly warming with caramel and a touch of smoke.
Comments
This German single malt is incredibly harmonious. A tasty blend of sweetness, fruit and subtle smoke. The flavours are perfectly matched. If you prefer an absolutely round dram without any rough edges and that doesn't overwhelm anyone, this is the right one for you.
I thank Birkenhof Brennerei for the complimentary sample!