ABV
45.9%
Region
Germany
Bottling
Distillery
 
Cask type

Spanish First-Fill Sherry Casks (2,794 btl.)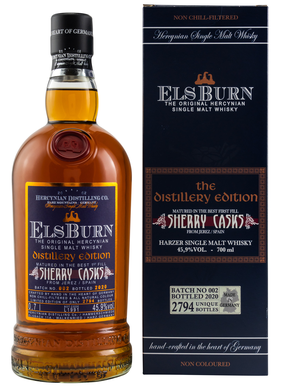 Nose
Very fruity on the nose with tangerines, juicy oranges, plums and red cherries. In addition, winter spices, aromas reminiscent of German glühwein candy, with cinnamon and a hint of tobacco in the background. Very pleasant!
Palate
The palate is also very sweet and creamy, with juicy tangerines and plums. In addition, slightly warming winter spices and oak flavours. Then a light but pleasant bitterness takes over with orange marmalade and green hazelnuts. I really like this nuttiness, which is joined by vanilla, subtle caramel tones and a whiff of tobacco leaves.
Finish
The finish is long lasting and slightly warming with creamy plum jam, green hazelnuts, dry oak spice as well as a light tobacco note towards the end.
With water
After adding water, more fruity notes on the nose with juicy oranges, but also more tobacco, cigar box and slightly less winter spices. Still sweet and creamy on the palate. The juicy tangerines and oranges are in harmony with bitter oak, green hazelnut and spice. The finish is medium long with hints of coffee, some tobacco, leather and hazelnut.
Comments
A very tasty single malt. A real palate pleaser, something for the sweet tooth among whisky drinkers. What I particularly like are the bitter nutty notes, which with the light tobacco flavour, the sweet fruitiness and the winter spices represent a multi-layered taste experience. An absolute recommendation in the cold season!
I thank Kirsch Import e.K. for the photograph!