ABV
57.1%
Region
Speyside
Bottling
The Whisky Cellar
 
Cask type

Ex-Bourbon Barrel + Rum Cask Finish (#R2016/9348 No 4, 189 btl.)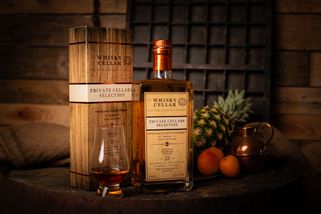 Nose
Fruity on the nose, somewhat exotic even with apricot, ripe pear, pineapple and a touch of banana. Also floral notes and vanilla, brown sugar as well as spicy oak and nutmeg.
Palate
Fruity on the palate with apricot, plum jam and banana. At the same time intensely warming due to the high alcohol content with a peppery spiciness and ginger. Then creamier and again sweet with brown sugar, some cinnamon and nutmeg towards the finish.
Finish
The finish is long lasting with warming yet spicy notes. Towards the end slightly bitter notes of oak. Turns into a slightly dry aftertaste with a whiff of nuttiness.
With water
After the addition of a few drops of water a little fresher on the nose with exotic fruits, bananas and pears. In addition, creamy vanilla and spicy hints of ginger and nutmeg. Creamy fruit compote on the palate accompanied by vanilla and slightly warming oak spice and nutmeg. The finish is somewhat shorter and slightly warming with fruit compote. Becomes dry towards the end with oak and nutmeg.
Comments
A cheerful dram with a fruity sweetness and warming spiciness. The rum finish provides exotic fruity notes that do not dominate the style of the aged Benriach but complement it wonderfully, for a balanced sweetness as a counterpoint to the spicy notes from the bourbon barrel. A dram, for which one should take the appropriate time, and which also tolerates a few drops of water.
I thank The Whisky Cellar for the complimentary sample and the photograph!