ABV
61.6%
Region
Speyside
Bottling
whic (Whiskycircle)
 
Cask type

First-fill Sherry Cask (289 btl.)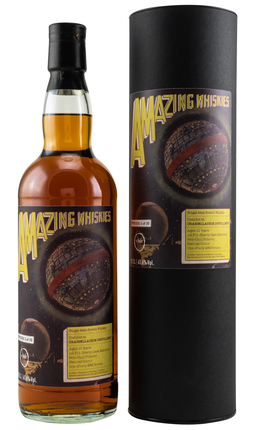 Nose
Sweet and heavy on the nose with dark sherry, dried figs and raisins. Dark chocolate emerges, accompanied by tobacco leaves and walnut notes. There is also a spiciness of ginger, nutmeg and cinnamon with a fine herbal note in the background. Very dense aromas.
Palate
Sticky sweetness on the palate with dried fruits, dates and raisins. Then a warming spiciness becomes noticeable with a peppery bite, almost of chili. As soon as this warmth fades, slightly dry notes of dark chocolate, tobacco, coffee and walnut appear. The spiciness increases with the 2nd sip.
Finish
The finish shows a medium length with cocoa, espresso, tobacco leaves and drying notes of walnut and oak.
With water
After the addition of several drops of water still sweet on the nose with slightly more tobacco aromas and a more distinct herbal note. Less sweetness on the palate, but more dry portions of chocolate, cocoa, nutmeg, oak and tobacco leaves. The finish is still of medium length with walnut, chocolate and tobacco.
Comments
A rich, chocolaty single malt with a vast range of dark flavours. Very multi-layered with a balance of dark fruits, coffee notes, walnuts, and a peppery-warming spiciness. An ideal warming dram for the coming cold season. Good for those who were quick enough to get hold of a bottle of this.
I thank whic (Whiskycircle) for the complimentary sample and the image!