ABV
46.7%
Region
Highlands
Bottling
Douglas Laing
 
Cask type

Refill Hogshead (# DL13910, 216 btl.)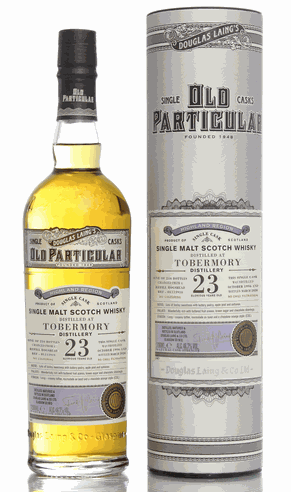 Nose
Malty sweetness with cereal notes and vanilla cream, accompanied by fruity notes of green apples, nectarines and yellow plums, with some orange lemonade in the back.
Palate
Sweet notes of cookies and yellow fruits before a warming spiciness of ginger and pepper takes over. Once this warmth fades, fruity aromas of nectarine and yellow plum emerge, accompanied by creamy vanilla, brown sugar and milk chocolate.
Finish
The finish is long lasting with a toffee sweetness, creamy fruit jam, some orange and a touch of dry oak towards the end.
With water
After adding a few drops of water, the nose becomes much more fruity with apricot, peach and mirabelle, and also more vanilla. Still sweet on the palate with creamy fruit jam. The spiciness is significantly tamed. In addition, there is toffee, vanilla and raisins, accompanied by a very light warmth. The finish is still long with orange marmalade, creamy mirabelle fruit and some milk chocolate.
Comments
A quite extraordinary fruity Tobermory. No sign of the 'dirty' notes that are often found within these bottlings. This single cask single malt is multi-faceted and very elegant, with a great combination of yellow fruit and warming spices. A well matured island whisky that I like very much.
I thank Douglas Laing for the photograph!