ABV
58.5%
Region
Highlands (Isle of Mull)
Bottling
whic (Whiskycircle)
 
Cask type

Refill Sherry Butt (#700599, 642 btl.)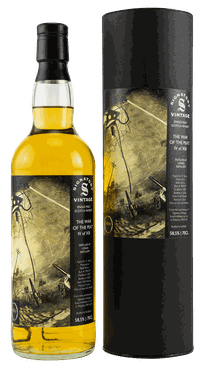 Nose
Peat immediately rises to the nose with typical notes of phenols. Fresh and powerful with soot and smoked bacon. Then sweet vanilla cream appears with fruity notes of plums and some figs, followed by a hint of salt in the background. Overall, the sherry cask influence is very subtle. The high alcohol content is noticeable but not pungent.
Palate
On the palate first a nice sweetness of vanilla, apricot and malt sugar. Then strongly warming and spicy with black pepper, almost chili, and dry oak. Creamy notes of plum compote emerge, accompanied by peat and ash. Overall oily and still sweet.
Finish
The finish is long-lasting, creamy and warming, characterised by ash, peat smoke, oak, nutmeg, cloves and subtle dark chocolate.
With water
After adding water, the nose becomes more intense and prickling, with significantly more peaty notes, smoked bacon, even a hint of cowshed aroma. The sweetness is somewhat pushed into the background. At first sweet on the palate, but then a chili-like pungency takes over. Strongly spicy and warming, accompanied by dry oak, nutmeg and allspice. Only later do sweet and fruity aromas of malt sugar, vanilla and plum appear. The finish is still long, slightly sweet with plum, very oily and warming with a touch of peat.
Comments
This fourth bottling from the series "The War of the Peat" lives up to its name. An intense, rich, spicy and peaty Ledaig, which also knows how to skilfully show off its sweet and fruity sides. Fans of bold sherry cask whiskies will not get their money's worth here, as the influence of the Spanish liqueur wine is very subtle here. But that does not have to be a disadvantage.
I thank whic (Whiskycircle) for the complimentary sample and the image!