ABV
58.8%
Region
Speyside
Bottling
whic (Whiskycircle)
 
Cask type

Sherry Butt (270 btl.)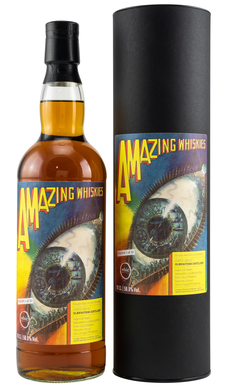 Nose
Typical aromas of a well-matured whisky from a sherry cask: old sherry, dates, raisins and chocolate coated brandy beans. Behind this are notes of old leather, tobacco leaf and fruity orange covered in dark chocolate, followed by a few spices like cinnamon, nutmeg, oak and a hint of vanilla.
Palate
A powerful attack on the palate, where the high alcohol content is noticeable. Warming and sweetish with dates, complex fruit aromas, chocolate, tobacco notes and bitter orange peel. Becomes peppery with slightly bitter dark chocolate and a little dry oak.
Finish
The finish shows a medium length with sticky fruit and some spices. Becomes increasingly dry with oak spice and a hint of tobacco.
With water
After adding a few drops of water, more freshness on the nose with less sherry, but more spicy notes of nutmeg, oak, dark chocolate, vanilla and a touch of orange. Prickling and also clearly spicier on the palate and slightly warming. Bitter orange with dark chocolate and clearly more dry oak. The finish is still of medium length with a touch of sticky fruit as well as dry oak and some spices.
Comments
A well-matured single malt from a sherry butt. No sherry bomb, but the result of over two decades of harmony between distillery character and oak wood. Hilarious fruit aromas mingle with dark chocolate, tobacco and spices to create a harmony of the senses. It is not surprising that this drop was sold out shortly after its release.
I thank whic (Whiskycircle) for the complimentary sample and the image!