ABV
50%
Region
Germany
Bottling
Distillery
 
Cask type

American ex-Bourbon Barrels (94%) and Quarter Casks (6%) (6,700 btl.)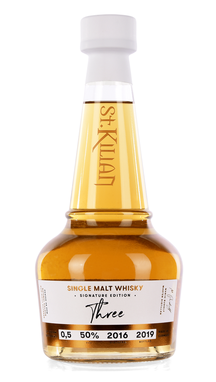 Nose
A sweet and fruity start on the nose with vanilla and clear fruit aromas. Citrus, pears and tropical fruits of apricot and pineapple are very noticeable. The whole is accompanied by a perceptible but nevertheless subtle smoke and peat note, with hints of anise and cold ash in the background.
Palate
On the palate a similar picture with a lot of sweetness of vanilla and caramel at first, accompanied by creamy tropical fruit notes. Then it gets very warm and spicy in the mouth with a strong pinch of black pepper, anise and some oak spice, wrapped in warm peat smoke.
Finish
The finish is warming and shows a medium length with subtle, creamy fruity notes, followed by some smoke and a touch of bitter green, unripe walnuts.
With water
The addition of a few drops of water makes the "Three" slightly fresher and more prickling on the nose with a little more spice, while the sweet and fruity notes as well as peat smoke are slightly pushed into the background. On the palate the reduction of the alcohol content is clearly noticeable by less warmth and spiciness. The creamy vanilla and caramel sweetness comes to the fore with the tropical fruit aromas, while the peat smoke remains discreetly in the background. The finish remains medium long, mouth warming with a creamy sweetness and discreet oak spice.
Comments
The third single malt bottling from the St. Kilian Distillers matured for at least three years to a very large extent in selected Tennessie Whiskey barrels and a small percentage in Texan quarter casks. The phenol content of 38 ppm of the malt used is noticeable in the bottling with a smooth and lingering peat smoke note, which underlines the wonderfully creamy sweetness as well as fruity flavours. The Bourbon barrels contribute a great deal of tropical fruit notes and peppery spice, with the 6% quarter cask content being mainly noticeable in the caramel sweetness and spicy oak notes. All in all a successful bottling of this still young German distillery.
I thank St. Kilian Distillers for the complimentary sample and the photograph!