ABV
45.1%
Region
Highlands
Bottling
Douglas Laing
 
Cask type

100% Sherry Casks (400 btl.)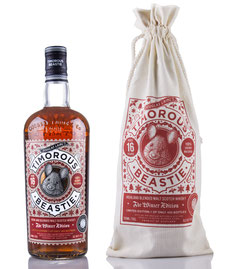 Nose
The nose starts off with delicate dark red fruits, Christmas cake and juicy oranges, covered by raisins and sherry. This is followed by cinnamon spice, ginger and oak, with notes of chocolate lingering in the background.
Palate
Sweet and fruity on the palate with red fruits and juicy oranges, followed by a warming mix of ginger spice, cinnamon, white pepper and a hint of oak. Creamy notes of fruit jam and honey linger with a touch of dark chocolate towards the finish. Deliciously mouthfilling!
Finish
The finish shows good length with warming ginger spice, cinnamon and cocoa, followed by orange sweetness and dry oak on the tail.
With water
Significantly spicier on the nose when a few drops of water are added. More ginger spice, oak and pepper with a tamed fruitiness. On the palate, more chocolate flavours emerge followed by creamy notes of honey and cinnamon. Again, less fruity and more spicy. The finish is medium long and dry with bitter notes of dark chocolate, ginger and dry oak.
Comments
This limited edition of Timorous Beastie is a well-matured, flavourful and balanced  blended malt with a great mouthfeel. Rich and creamy, full of dried fruits, warming Christmas spices and notes of chocolate, but not at all overpowered by sherry. This is certainly one for the upcoming Winter season. Best to enjoy neat in good company and in front of a log fire.
I thank Douglas Laing for the image!