ABV
48%
Region
Isle of Islay
Bottling
Douglas Laing
 
Cask type

-- (3,300 btl.)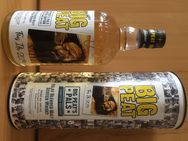 Nose
Peat and smoke are in the foreground, nicely mixed with smoked ham, sweet vanilla and a malty note. Slightly maritime with burnt seaweed and a whiff of cold chimney air in the back.
Palate
Sweet start on the palate with vanilla and crisp malted barley. Then quite warming with peat smoke, seaweed, black pepper and charred wood, with an underlying citric sweetness and a touch of leather towards the finish.
Finish
The finish is long, warming and sweet at first. Becomes drier with chimney smoke, bacon, allspice and ashes.
With water
The lovely sweetness is tamed when a few drops of water are added, leading more peat and notes of smoked ham to the fore. The same on the palate where cracked black pepper, burnt oak and smoke take over. The finish is still long and dry with charred wood, smoked ham and chimney soot.
Comments
This limited Big Peat edition was released to celebrate Fèis Ìle 2019. It is a rich, smoky dram with a sweet vanilla core surrounded by burnt seaweed and notes of barbecued meat. Big, intense and very pleasant to drink. It warms body and soul, not only after a walk on a cold and rainy day. Is your pals selfie on the tube?
I thank Douglas Laing for the complimentary sample!