Tasting Notes
ABV
46%
Region
Speyside
Bottling
Douglas Laing
 
Cask type

100% matured in Oloroso and Pedro Ximénez Sherry Casks (4,500 btl.)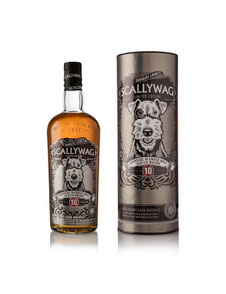 Nose
Fruity start on the nose with apricots, yellow ripe apples and juicy peaches. Sweet with vanilla and a touch of floral notes in the back. Behind that oak spice and cinnamon emerge, nicely followed by honey and a touch of mocha.
Palate
Bold and intense on the palate with a warming mix of spiced oak, black pepper and cinnamon. Sweet notes of caramel, vanilla and brown sugar arrive, followed by roasted oak and creamy notes of peaches towards the finish.
Finish
The finish is long, warm and creamy with lingering spices, a honeyed sweetness, subtle floral notes and a touch of dry oak on the tail.
With water
Water brings out more fruitiness with loads of peaches and also vanilla sweetness. Still bold and spicy on the palate with black pepper and oak, accompanied by vanilla and peach. The finish is a bit shorter, slightly warming and a touch drier with oak and pepper.
Comments
This younger Scallywag is clearly less determined by sherry cask maturation than its 13 year old brother bottling, but demonstrates a rich aroma profile of friuty peaches, complemented with lingering vanilla sweetness and nicely balanced with warming, autumnal spices. A delicate all-day dram. Gains with a few drops of water, too.
I thank Douglas Laing & Co. for the complimentary sample and the photograph!