Tasting Notes
ABV
58.6%
Region
Lowlands
Bottling
Douglas Laing
 
Cask type

-- (3,000 btl.)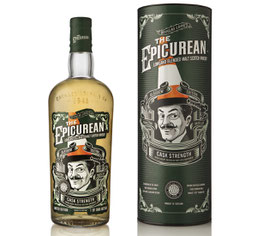 Nose
Fresh and fruity on the nose with a delicate lemon note and apricots. Vanilla sweetness with a touch of blossom honey and icing sugar. Hints of ginger and oak in the back with a noticeable alcoholic bite.
Palate
Deliciously sweet on the palate with creamy vanilla, followed by lemons and apricots. Silmutaneously, it is bold and strong with a warm and spicy note of white pepper, caramelised ginger and a whiff of oak. Creamy, almost sticky with a floral touch.
Finish
The finish is medium long, slightly warming and creamy sweet with sticky apricot jam. Floral and grassy with a touch of oak on the tail.
With water
A bit fresher on the nose with lemon sorbet and a restrained alcoholic bite when a few drops of water are aded. Still sweet and fruity on the palate while the warming spiciness is tamed significantly. Less creamy and fruity with a hint of pepper and some prickling oak in the back. The finish shows medium length with floral notes and dry oak.
Comments
This full-bodied cask strength Lowland whisky pleases with wonderful fruity notes and sweet vanilla, being well kept in balance by warming spices and the high, somewhat biting alcohol content. Appears much more tamed when diluted, but the creamy, almost sticky and fruity sweetness is almost completely lost. A nice summer whisky with an intense warming spiciness. Something for the cooler summer nights, so to speak.
I thank Douglas Laing for the complimentary sample and the photograph!