Tasting Notes
ABV
45.0%
Region
Highlands
Bottling
Douglas Laing (exclusively bottled for Germany)
Cask type

Refill Hogshead (# DL12154, 237 btl.)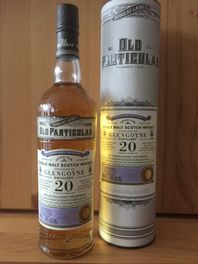 Nose
Fruity and sweet on the nose with apricots, bananas and a whiff of lemon in the back. This is followed by lingering vanilla and a touch of oak. Needs a bit time to open up.
Palate
Creamy and sweet on the palate with a delicate mix of vanilla, apricots and coconut. Becomes sweeter and more creamy along with brambles, slightly warming oak and white pepper. Very nice indeed.
Finish
Medium to long finish. Creamy and slightly warm with vanilla, sticky fruit and a touch of dry oak on the tail.
With water
Quite fruity on the nose when a few drops of water are added. Creamy vanilla and ripe yellow fruit. Surprisingly spicy on the palate with prickling oak and black pepper while the delicate vanilla sweetness remains stable. The finish shows medium length with prickling oak, sticky fruit and a whiff of lemon on the tail.
Comments
Another tasty, older Glengoyne from a Bourbon cask. Lots of yellow fruit aromas, paired with creamy Bourbon vanilla notes and pleasantly restrained oak spices. Nicely complex, delicate and well-balanced. A pleasant companion at the end of a beautiful day.