Tasting Notes
ABV
46%
Region
Highlands (Isle of Jura)
Bottling
Gordon & MacPhail

Cask type

Refill Sherry Hogshead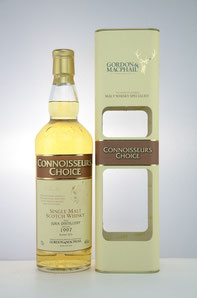 Nose
Soft and fruity on the nose with yellow apples, apricots and papaya. This is complemeted by lingering notes of vanilla, toffee and butterscotch. Hints of spiced oak and honey in the back.
Palate
The fruits continue on the palate with apples, melon and papaya. Warming spices emerge with oak, pepper and allspice. Sweet notes of honey and malt, with slightly dry cocoa powder and walnuts towards the finish. Round and mellow.
Finish
The finish shows good length with spiced oak and warming peppery notes. Slightly dry with a nice kick of herbs on the tail.
With Water
Clean, sweet and very fruity on the nose with green apples and plenty of vanilla. On the palate, however, water tames the delicate fruitiness bringing more spices and dry oak to the fore, nicely mixed with creamy honey. The finish shows medium length with a slightly oily and warming sweetness of acacia honey, spiced oak and a lingering nuttiness.
Comments
Wow, so many layers of fruit! This is a smooth, oily and very fruity single malt with a good spicy counterpart. It's more the yellow and exotic fruitiness than the dark cherries, dates and raisins derived from a sherry cask. However, this gives the filigree flavours of vanilla, toffee and discreet spiciness more space to evolve. Deliciously refreshing and dangerously quaffable.