Tasting Notes
ABV
58.5%
Region
Islay
Bottling
eSpirits Whisky for Liquid Treasures
Cask type

Bourbon Barrel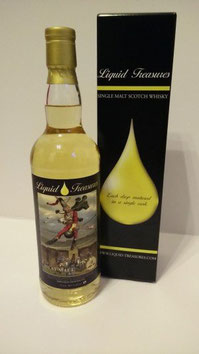 Nose
The nose starts off with fresh cut peat and subtle smoked fish. This is complemented with barley sugar, vanilla and a touch of lemon. Subtle notes of tar and burnt matches arrive along with tender medicinal flavours and gauze bandage.
Palate
Surprisingly sweet on the palate with delicate barley sugar and lingering fruits, such as bananas, tangerines and gentle yellow pear. This is accompanied by an intensely warming spiciness of pepper, oak, nutmeg and allspice, complemented with lingering peat. Quite intense and delicate.
Finish
The finish is medium long, warm and creamy with barley sugar, subtle vanilla, peat and tender dry oak.
With water
The fruitiness is significantly tamed when adding a splash of water. There's more medicinal flavours coming through with gauze banadage, peat, ash and tar. Dry oak in the background. Still sweet on the palate with barley sugar, vanilla, accompanied with a slightly tamed spiciness of oak, pepper, and allspice. The lovely fruitiness, however, is almost gone. The finish shows medium length with a tender warming spiciness of pepper and peat, with more drying notes of oak on the tail.
Comments
A young and boisterous Islay malt. Very present on the nose with lots of maritime character and a subtle fruitiness. Surprisingly very sweet on the palate with an already good balance of fruitiness and spiciness, nicely wrapped in lingering peaty flavours. Water tames the lovely fruity notes bringing more oak and peat to the fore.
I thank Dailydram.de for the sample and the photograph!