Tasting Notes
ABV
51.5%
Region
Lowlands

Bottling
Scotch Universe
Cask type

Bourbon Hogshead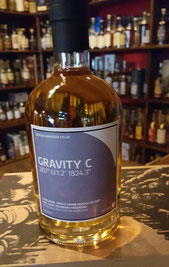 Nose
The nose starts off with lingering notes of vanilla, biscuit and icing sugar. Blossom honey and caramel arrive, followed by yellow fruits, mainly apricots, gently dripped with rum, and a fresh whiff of lemons in the back.
Palate
Deliciously sweet on the palate with vanilla, icing sugar and tropical fruits - apricots and mango. Nicely warming with spiced oak, white pepper and a slightly bitter touch of orange peel towards the finish.
Finish
The finish is long, fruity, creamy and warming with apricots, acacia honey, white pepper, and oak spice.
With Water
On the nose, water brings more vanilla, icing sugar and biscuit flavours to the fore while the fruitiness is tamed. Loads of sweet vanilla on the palate with apriots, pears, and notes of popcorn. Less warming with a tamed spiciness and no bitter notes towards the finish. The finish is medium long, creamy, soft and nicely sweet with biscuit, vanilla, apricots and blossom honey.
Comments
A lovely, middle aged single grain whisky. Although pale in colour, it has well benefited from the casks. Full of vanilla sweetness, richness and depth without any alcohol harshness. Reminds me of liquid "Vanillekipferl", this tiny crescent-shaped biscuit made with almonds and dusted with icing sugar. Best to enjoy with a splash of water.

I thank Michel Reick from Scotch Universe for the sample and the photograph!