Tasting Notes
ABV
49.7%
Region
Highlands
Bottling
Douglas Laing
Cask type

Refill Hogshead (DL #11182, 261 btl.)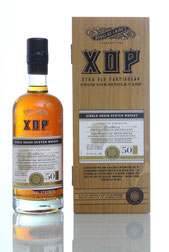 Nose
The nose starts off with vanilla, caramel and dark fruits, mainly plums. Delicate notes of baked apples arrive, mixed with cinnamon spice and orange oil. Oak and some earthy flavours in the back.
Palate
A sweet start on the palate with orange and caramel, accompanied by an intense spiciness of black pepper, oak, cloves and cinnamon. Once the spiciness fades, notes of dark berries and acacia honey linger towards the finish.
Finish
The finish shows medium length with sweet vanilla, dry oak, cloves and a hint of earthy flavours on the tail.
Comments
This single grain whisky has been matured in an oak cask for an impressive period of half a century! The final result is an enticing oldie, well matured with a lovely balance of oaky spiciness and bourbon derived flavours. Rich, fruity, spicy, and an excellent mouthfeel. A cracking example of a mature grain!
I thank Douglas Laing for the sample and the photograph!