ABV
46%
Region
Highlands
Bottling
Distillery (Knockdhu)
 
Cask type

American Oak ex-Bourbon Casks & Spanish Oak ex-Sherry Casks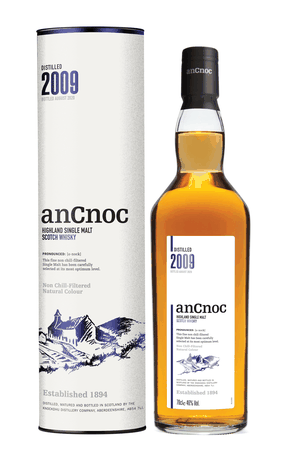 Nose
Fruity and spicy on the nose with green apples, honey and oak notes. Accompanied by toffee and floral tones with a touch of citrus in the background.
Palate
Rich on the palate with green apples, toffee and honey. At the same time warming notes of spicy oak. Plus some butterscotch, dark chocolate tones and a hint of floral notes towards the finish.
Finish
The finish is medium to long and soft with caramel. Becomes a little drier later with cocoa and a touch of oak.
With water
After adding water, spicier on the nose with notes of autumn leaves, plus fruity aromas of green apples and citrus. Sweet and creamy on the palate with green apples, caramel and oak spice followed by dark chocolate. The finish is medium long with creamy notes of caramel and honey, plus some oak.
Comments
Another beautiful, nicely composed single malt from the Knockdhu distillery with the typical fruity apple and sweet caramel notes, which are in good balance with the spicy flavours of the Spanish oak. A dram one can enjoy completely relaxed at the end of a successful day.
I thank Joh. Eggers Sohn GmbH for the complimentary sample and the photograph!