ABV
48%
Region
Speyside
Bottling
Distillery
 
Cask type

Bourbon Barrels, Rioja Wine Barrique Finish (6,000 btl.)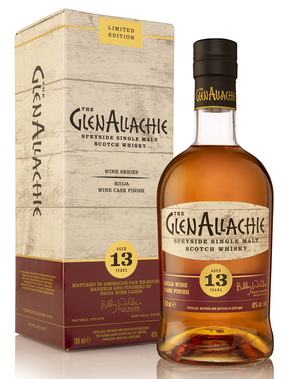 Nose
A beguiling scent of red fruit jelly and strawberries immediately rises to the nose. This is accompanied by notes of honey, orange peel and a hint of toffee. Somewhat spicy in the background with a hint of oak plus a touch of almonds.
Palate
Powerful on the palate with sweet and fruity red berries, plus malt sugar and some pink grapefruit. Spicier towards the finish with anise and forest honey.
Finish
The finish is long, warming and creamy with anise and slightly bitter notes of orange peel and pink grapefruit.
With water
After adding a few drops of water, more fruity on the nose with red berries, but also a little more spice. Malty sweetness with slightly bitter notes of orange peel and pink grapefruit in the background. Sweet and creamy on the palate with honey, strawberry and some grapefruit. Clearly less warming and less spice. The finish is medium long and creamy with oranges and some pink grapefruit.
Comments
This 13-year-old GlenAllachie with the Rioja wine finish convinces with its intoxicating fruit aromas of ripe red berries. These are joined by the typical notes of honey and orange. Surprisingly powerful on the palate, so that it can also be experimented with some water. My favourite of the three bottlings in the Wine Series so far.
I thank The GlenAllachie Distillery for the complimentary sample and the photograph!