ABV
61.2%
Region
Highlands
Bottling
The Barreliers
 
Cask type

Hogshead (#399, 295 btl.)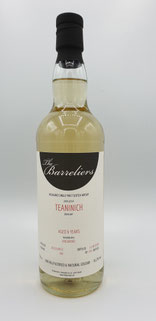 Nose
First a malty sweetness on the nose, accompanied by fruits like yellow apples, citrus fruits (oranges, limes, grapefruit) and pear sorbet. Behind this creamy vanilla and a hint of oak spice. The alcohol is well integrated and in no way stands out.
Palate
Oily and sweet on the palate with strongly warming spices - ginger, allspice and some oak. Then again citrus fruits, such as orange, lime and slightly bitter grapefruit, accompanied by creamy vanilla.
Finish
The finish is of medium length and dries over time with citrus notes, creamy vanilla, some pepper and oak spice.
With water
After the addition of a splash of water, the Teaninich is much more lively on the nose with noticeable alcohol, vanilla, citrus and also a little more oaky notes. Still sweet on the palate with creamy vanilla, oranges, limes and less spices. All in all clearly less warming. The aftertaste is still medium long, oily, slightly dry with fruity-bitter notes of grapefruit.
Comments
A still young bottling with a high alcohol content from the Highlands, which gained wonderful citrus fruit aromas and creamy vanilla from the hogshead. Despite its youth this oily and sweet dram shows a distinct fruitiness, paired with a good load of warming spices carried by the alcohol, which can be controlled by adding some water.
I thank The Barreliers for the complimentary sample and the photograph!