Tasting Notes
ABV
46%
Region
Islay
Bottling
Gordon & MacPhail

Cask type

--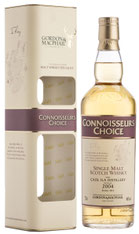 Nose
Fresh on the nose with lingering notes of lemons, some yellow apples and cereals. Hints of ozone, fresh mint, cold wood smoke and a touch of coal. Subtle vanilla and tender peaty notes in the back.
Palate
Surprisingly intense start on the palate with a warming mix of oak spice, pepper and allspice. Citrusy with lemons, followed by a delicate sweetness of malted barley, subtle banana and green apple. Hints of sea salt and ozone towards the finish.
Finish
The finish shows medium length with a delicate mix of vanilla and malted barley sweetness. This is wrapped in subtle wood smoke, complemented by fresh sea air, ozone and a whiff of spiced oak.
With Water
Very fresh on the nose when water is added with ozone, sea air and a whiff of salt. Behind that subtle sweet notes of malted barley and vanilla emerge, followed by some oak spice in the back. The intensity on the palate is tamed with only minor fruity notes of lemon and apples. Water brings the spiciness to the fore with prickling oak, pepper and allspice, lovely mixed with hints of malted barley and vanilla. The finish is medium long, warm and creamy with liquorice, tender toffee and a hint of coffee aroma on the tail.
Comments
A fresh, fruity, and peppery expression of Caol Ila with an appealing nose and a tasty palate. Lovely balanced with some complexity. Very quaffable as all the classic Caol Ila aromas and flavours are there. Vibrant with a splash of water.
I thank Gordon & MacPhail for the sample and the photograph!