Tasting Notes
ABV
48.4%
Region
Speyside
Bottling
Douglas Laing
Cask type

Sherry Butt (DL #11170, 490 btl.)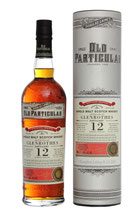 Nose
Fresh and fruity on the nose with Seville oranges, tangerines and subtle sherry notes. This is followed by Turkish Delight, aniseed, cinnamon and tender vanilla, with hints of tobacco leaves and chocolate in the background.
Palate
Sweet, fruity and slightly oily on the palate with luscious oranges, tangerines and honey. Sherry shines through a bit with notes of dark fruits and sultanas. This is accompanied by a bold and warming spiciness of cinnamon, caramelised ginger, oak and a touch of black pepper. Hints of cereals towards the finish. Nicely complex.
Finish
The finish shows good length with a creamy sweetness of honey, vanilla and slightly bitter notes of Sevilla oranges. Subtle warming winterly spice on the tail.
With Water
Water even enhances the lovely fruitiness on the nose, mixed with cinnamon and spiced oak. Sweet and fruity on the palate with oranges, candied fruits, cinnamon and prickling oak. The finish is still long, honey sweet with significantly drying oak on the tail.
Comments
A deliciously sweet, rich, and elegant Speyside malt. A teasing mix of sweet and fruity flavours, beautifully rounded with winterly spice. Complex, well-balanced and very appetising! A sophisticated after-dinner dram - sit, sip, relax and simply enjoy!

I thank Douglas Laing for the sample and the photograph!