ABV
60.2%
Region
Germany
Bottling
St. Kilian Distillers
 
Cask type

ex-Sherry PX Cask (#1527)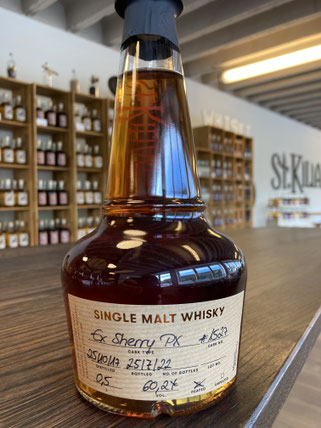 Nose
Immediately, sweet peat smoke rises to the nose, accompanied by sherry aromas, BBQ notes and grilled dates wrapped in bacon. An intensely sweet-smoky aroma with perfectly integrated alcohol.
Palate
Full-bodied, powerful and intense on the palate with a wonderful sherry sweetness and brown sugar. In addition, notes of grilled ham with honey glaze and ripe plums arrive. This is all perfectly wrapped in delicate peat smoke. Gorgeous!
Finish
The finish is endlessly long, warming and wonderfully creamy with jammy fruit of ripe plums. This is joined by notes of spicy oak, some dry ash with a hint of allspice, leaving you with fruit sweetness.
With water
After the addition of water fresher and more intense on the nose with lots of sherry aroma, plum fruit and a little less peat smoke. More lively and prickling on the palate with sherry and fruit sweetness, a little more spicy notes and less smoke. The finish is long, less warming and noticeably drier with ash notes, oak and less fruit jam.
Comments
This hand-filled bottling is incredibly intense with a concentrated melange of sherry, sweetness, BBQ notes and lots of creamy fruit. Perfectly wrapped in lingering peat smoke. A full-bodied bottling where you have to look twice at the label to realise that this single malt is only four years old. An excellent peated new make spirit, matured in a great PX-cask! Well done folks.
I thank St. Kilian Distillers for the complimentary sample!