ABV
60.6%
Region
Germany
Bottling
St. Kilian Distillers
 
Cask type

ex-Rum/Rhum Casks (#1204, #2585, #3187, #3208, 800 btl.)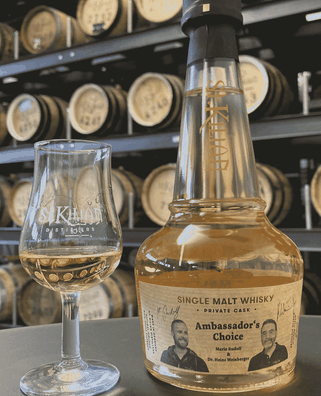 Nose
Vibrant rum aromas with a beguiling scent of tropical fruits, pineapple, peach and banana, interplaying with sweet molasses and vanilla cream as well as a subtle tobacco note in the background.
Palate
Seductively sweet and tropically fruity with vanilla, pineapple, pear and baked bananas. At the same time intense and warming with spicy oak, a pinch of white pepper and a hint of tobacco towards the finish.
Finish
The finish is long with creamy sweet fruit jam accompanied by dark chocolate, warming oak notes and a hint of tobacco.
With water
After the addition of water, clearly more lively and prickling on the nose with bold rum aromas, tropical fruit notes and creamy vanilla. Continues to be fruity on the palate, with creamy vanilla and more spicy notes, followed by oak and dark chocolate. The finish is still long and creamy. Becomes increasingly dry with notes of dark chocolate, spicy oak and a hint of tobacco leaves.
Comments
As a St. Kilian Ambassador, I was privileged to create this powerful rum bomb myself. The top note consists of intense single malts, matured in former rum barrels from Jamaica, with their many fruit esters and spicy notes. This is rounded off with the creamy fruit jam and sweet vanilla and dry notes from the single malts that were allowed to mature in former rum casks from Puerto Rico and in Rhum Agricole casks. A true explosion of flavour for nose and palate alike.
I thank St. Kilian Distillers for the complimentary sample!