ABV
60.0%
Region
Germany
Bottling
St. Kilian Distillers
 
Cask type

ex-Rum Puerto Rico Cask (#2585, appr. 480 btl.)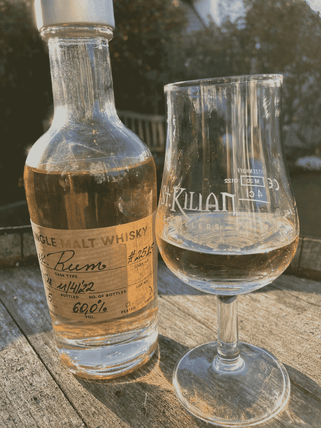 Nose
Classic, intense aromas of rum made from molasses, with tropical fruits like pineapple and banana. This is accompanied by sweet vanilla and a hint of spicy notes in the background.
Palate
Sweet and creamy also on the palate with the typical fruit notes of pineapple, banana and apricot, accompanied by lots of vanilla and a warming, slightly peppery spiciness. Very intense and mouth-filling.
Finish
The finish is long and creamy with fruit jam and vanilla. Becomes a little drier with time with subtle spicy oak.
With water
After adding water, subtle floral notes are added to the aromatic rum and fruit flavours. Still wonderfully sweet on the palate with creamy vanilla and tropical fruit jam, accompanied by a slightly warming, spicy note. The finish is still long and creamy with fruity jam and slightly bitter orange peel, accompanied by subtle dry oak.
Comments
This hand-filled bottling from St. Kilian Distillers impresses with its powerful rum aroma, wonderfully accompanied by tropical fruits, sweet vanilla and subtle oak spice. With its high alcohol content, the addition of water is a good idea, but the single malt does not lose any of its aroma or flavour. An intense, full-bodied and mouth-filling dram!
I thank St. Kilian Distillers for the complimentary sample!