ABV
21%
Region
Germany
Bottling
Distillery
 
Cask type

--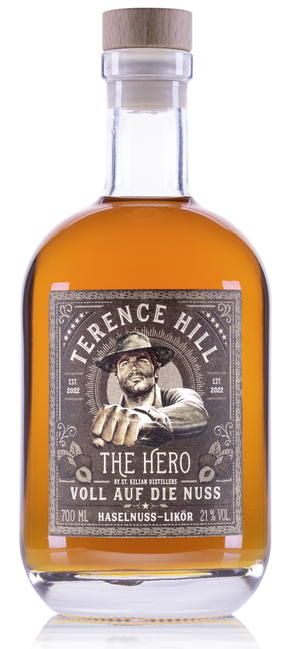 Nose
Immediately, a wonderfully intense and beguiling aroma of roasted hazelnuts is on the nose, accompanied by a silky smooth sweetness with notes of marzipan and bourbon vanilla.
Palate
Soothingly sweet on the palate with an elegantly smooth texture of roasted hazelnuts, creamy vanilla and fine caramel, followed by delicate marzipan and a pinch of dry cocoa towards the finish.
Finish
The finish is long lasting with a velvety and mild sweetness of vanilla and hazelnut flavours, rounded off with subtle dry notes of cocoa and coffee.
With water
There is absolutely no reason to dilute this wonderful whisky liquer with even a drop of water.
Comments
With this intense hazelnut liqueur, the name says it all: A full-bodied, extremely beguiling and aroma-intensive whisky liqueur with a sweet but not too sweet melange of roasted hazelnuts, vanilla, marzipan and a pinch of cocoa. Ideal as a finishing touch after a tasting, as a liquid dessert or just in between. The whisky liqueur "Terence Hill - The Hero - Voll auf die Nuss" fits always and everywhere!
I thank St. Kilian Distillers for the complimentary sample and the image!