ABV
49.5%
Region
Germany
Bottling
Distillery
 
Cask type

50l & 190l ex-Bourbon Casks and 190l & 225l ex-Rum Casks (10,000 btl.)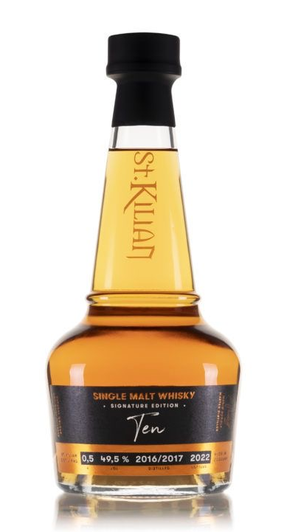 Nose
Tropical fruit notes on the nose with pineapple and peach. There is also sweet vanilla cream and a hint of coconut, accompanied by crisp barley malt and some spicy oak notes.
Palate
Initially wonderfully sweet and creamy on the palate with notes of bourbon vanilla, barley malt and tropical fruit jam. Pleasantly warming with notes of dark toffee and a subtle oak spiciness.
Finish
The finish is long and creamy with milk chocolate and caramel followed by subtle notes of dark bread crust and a touch of dry oak.
With water
After adding a few drops of water, clearly more spice on the nose, along with barley notes and milk chocolate, with the tropical fruit notes fading into the background. Still sweet on the palate with creamy fruit, vanilla, a hint of coconut and dark toffee. At the same time slightly warming with spicy oak notes. The finish is still long with distinct dry notes of oak, barley malt, toasted bread and dark chocolate.
Comments
This tenth edition of the Signature Edition focuses on the variety of malt used, which St Kilian Distillers has in stock. The whisky was made from a total of five different types of malt and matured in ex-Bourbon and ex-Rum casks of different sizes. The result is a full-bodied and intense single malt, which fully convinces with a wonderful sweetness of tropical fruits, intense malt notes, chocolaty tones and spicy oak. A dram to relax and enjoy!
I thank St. Kilian Distillers for the complimentary sample and the image!