ABV
60.7%
Region
Germany
Bottling
Distillery
 
Cask type

ex-Rye Early Times & ex-Tennessee Whiskey Jack Daniel's 190l Cask (#2213, appr. 288 btl.)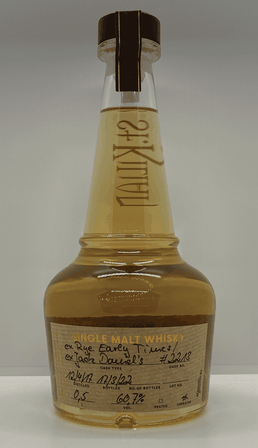 Nose
Lots of sweet vanilla, almost custard, accompanied by some toffee and a lovely fruity note of juicy peaches, apricots and ripe pears. With time, fresh pineapple is added. A truly beguiling nose.
Palate
At first, the sweetness dominates with vanilla, accompanied by peach and ripe pears. Then the alcohol becomes noticeable with a comforting warmth, followed by dark caramel tones. Towards the finish, a sticky creamy fruit sweetness with vanilla custard prevails.
Finish
The finish is long and wonderfully creamy with vanilla and dark caramel. With time, slightly dry oak arrives, followed by subtle toasty aromas of bread crust and a slightly spicy rye note.
With water
After the addition of a few drops of water, a little spicy rye on the nose, while retaining the lovely fruity notes (peach, pear) and complemented by a hint of lemonade. Creamy sweet and wonderfully fruity on the palate, with some dark caramel. Only slightly warming. The finish is still long with caramel, subtle roasted flavours and creamy fruit notes.
Comments
This Distillery Only bottling is a delightful melange of vanilla, sweetness and sticky fruit with a slightly spicy rye undertone. At almost five years old, it is already very well balanced and has an impressive depth. Another example of how well the spirit from St. Kilian Distillers harmonises with former Bourbon or Rye casks. Dangerously drinkable despite the high alcohol content. Very well done!
I thank St. Kilian Distillers for the complimentary sample!