ABV
59.6%
Region
Germany
Bottling
Distillery
 
Cask type

ex-Bourbon Heaven Hill / ex-Tennessee Whiskey Jack Daniel's Cask (#4838, appr. 290 btl.)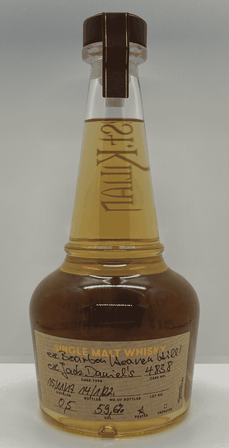 Nose
Clear smoky notes on the nose. Behind it, sweet vanilla and juicy barley come to the fore, accompanied by fresh citrus fruits like limes and some smoked ham.
Palate
At first some smoke on the palate, then a wonderful sweetness of vanilla, barley malt and dark toffee. At the same time bold and warming with a slightly peppery spiciness. Behind this are fruity notes of citrus and apricot, before dry ash notes lead over to the finish.
Finish
The finish is long and warming with creamy vanilla and a hint of apricot. Becomes increasingly dry with ash notes and subtle smouldering wood smoke.
With water
After the addition of water, a little more smoke on the nose with distinct smoked ham. Also a little fresher with lime and a touch of floral notes like mint and sage. Very sweet on the palate with lots of vanilla and some apricot jam. In addition, a discreet spiciness and tingling warmth. The finish is a little shorter with vanilla cream, smoked ham and smoky barley notes.
Comments
This Distillery Only bottling shows once again that a smoky barley malt recipe from St Kilian Distillers harmonises excellently with good ex-Bourbon casks. The result is a powerful single malt with a beautiful vanilla sweetness and corresponding smoky notes. A nice balance of smoke, sweetness, fruit and spice. More of this please!
I thank St. Kilian Distillers for the complimentary sample!