ABV
59.7%
Region
Germany
Bottling
Distillery
 
Cask type

ex-Rhum Agricole/Cognac French Oak Cask (#1206, appr. 197 btl.)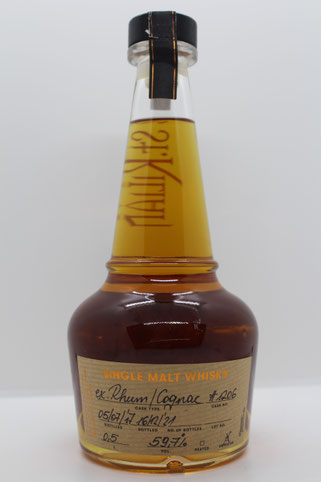 Nose
Immediately, tropical fruit notes are on the nose with banana, peach, some ripe pear and a hint of pineapple. Sweet vanilla with coconut flakes and yellow grapes. Spicy oak mingles with a slight alcoholic bite in the background, accompanied by a hint of tobacco and a touch of bitter Seville oranges.
Palate
Delightfully sweet and fruity on the palate with tropical fruits, pineapple cream and ripe peaches. At the same time warming with oak spice and white pepper. A touch of tobacco develops towards the finish.
Finish
The finish is long and warming, with creamy sweet fruit jam, followed by some dry oak towards the end.
With water
A little spicier on the nose after adding a few drops of water. At the same time, however, a lot of heavy fruit with clearly noticeable tobacco notes. On the palate, still sweet and fruity, a little more tangy and lively with oak spice and white pepper, plus vanilla and creamy fruit compote. The finish is still long, sweet and creamy with distinctly drier notes of oak and tobacco leaves.
Comments
A wonderfully sweet and fruity single cask bottling from St Kilian Distillers, where the mild new make was allowed to mature over four years in a French oak cask, which was first filled with Rhum Agricole and then with Cognac. The heavy and tropical fruit notes unfold together with the sweetness and are perfectly balanced by the spiciness of the French oak and the tobacco notes. A delightful dram that conjures up sunshine in the glass!
I thank St. Kilian Distillers for the complimentary sample!