ABV
49%
Region
Germany
Bottling
Distillery
 
Cask type

ex-Port Wine & ex-Oloroso Sherry Casks (870 btl.)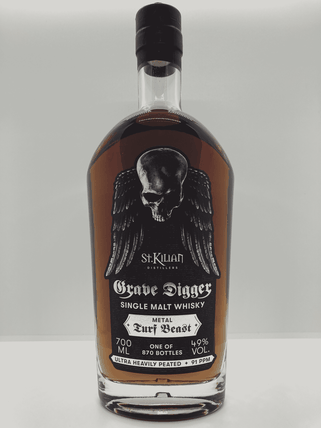 Nose
Immediately there is intense peat smoke on the nose, warming, with sweet notes of plum jam and sultanas. This is joined by dark chocolate and cooling notes of mint and menthol. In the background is some tobacco and dry spicy oak with ash.
Palate
Sweet and powerful on the palate with warming peat smoke, plum jam, sultanas and red berries. In addition, a slight dryness with tannins, green walnut as well as ash notes. Very lingering!
Finish
The finish is long and creamy with red berry jelly, jammy plum and warming peat smoke. This is joined by notes of walnut and tannins. Dry peat smoke hovers over everything.
With water
After the addition of water, the intense peat smoke remains. However, the fruit notes of plum and sultanas are still noticeable. Intense but less warming on the palate, with distinct dry notes of dark chocolate and cocoa, with green walnut and overall less fruit flavours. The finish is still long, noticeably drier with tannins, ash and peat smoke. Also clearly less fruit.
Comments
Oh yes, this is an intense dram ideal for the cold season. The spicy peat smoke is perfectly balanced by the dark fruit notes, to which the dry tannins and walnut flavours go very well. Despite the 91 ppm, the fruity notes shine through very nicely. Peat, smoke, sherry, port and St Kilian - what more could the whisky connaisseur want. Well done folks!
I thank St. Kilian Distillers for the complimentary sample!