ABV
47%
Region
Germany
Bottling
Distillery
 
Cask type

Red Wine Casks (6,340 btl.)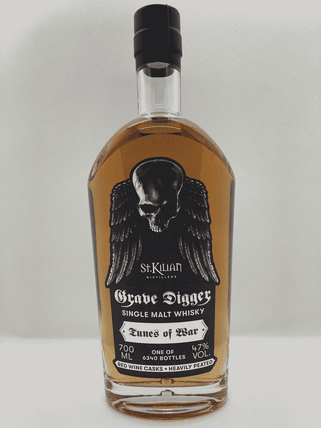 Nose
Peat smoke is immediately present on the nose, accompanied by crisp bacon and sweet fruity notes of red grape, strawberry and raspberry. This is joined by dry aromas of ash, chimney air and burnt oak.
Palate
A sweet mix of red grapes, apples, ripe peaches with warming peat smoke spreads pleasantly in the mouth and is accompanied by spicy oak, a subtle peppery spiciness and dry ash notes.
Finish
The finish is long and wonderfully warming with notes of grape jelly and red apples. Becomes drier towards the end with spicy oak, wood smoke and dry ash notes that linger.
With water
After adding water, more oak spice and peppery spiciness on the nose. The peat smoke remains and the fruit notes are pushed somewhat into the background. On the palate still sweet and fruity with red grapes, plus warming peat smoke with a little less spice. The finish is still long with smoke, grape jelly and a little more spice, oak as well as dry ash.
Comments
A warming and spicy single malt from St Kilian Distillers with distinct peat smoke and earthy ash notes, nicely balanced by the lovely fruit notes of the red wine casks used with plenty of sweetness. For an age of only 3.5 years, this is a remarkable single malt with a captivating variety of flavours. This dram does not come from Islay, it comes from Germany! Very impressive, in my opinion.
I thank St. Kilian Distillers for the complimentary sample!