ABV
46%
Region
Germany/Ireland
Bottling
St. Kilian Distillers and Great Northern Distillery (Ireland)
 
Cask type

ex-Bourbon and ex-Rum Casks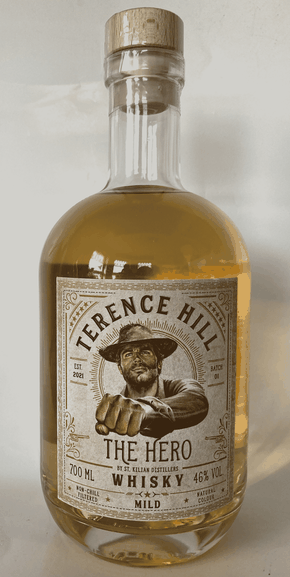 Nose
Fruity and sweet on the nose with tropical fruits, especially pineapple and banana. In addition, creamy vanilla, caramel and a hint of molasses, with some cherry and warming oak in the background.
Palate
Still sweet and fruity on the palate with Caribbean flair. Pineapple and banana mingle with creamy toffee and sweet vanilla. At the same time warming with spicy oak, pepper and slightly dry cocoa towards the finish.
Finish
The finish is medium long with pineapple cream and caramel tones. Becomes increasingly dry with cocoa and oak notes.
With water
After the addition of water, fruity with pineapple and banana, accompanied by toffee, caramel and vanilla. The sweet and fruity aroma clearly predominates. Strong on the palate, however, where the sweetness is hardly noticeable, and spicy oak and pepper dominate. Still somewhat fruity with tropical fruits towards the finish. The finish remains medium long and becomes noticeably drier with caramel, cocoa and spicy oak.
Comments
For this Terence Hill bottling, German single malts from St. Kilian Distillers, matured in former rum casks, were blended with triple-distilled whiskeys from the Irish Great Northern Distillery, which matured in American ex-bourbon casks. The result is a wonderfully sweet whisky with Caribbean flair, nicely balanced by spicy, warming oak notes. An ideal all-day dram.
I thank St. Kilian Distillers for the complimentary sample!