ABV
60.2%
Region
Germany
Bottling
Distillery
 
Cask type

European & American Virgin Oak Casks (#448 & #463, appr. 580 btl.)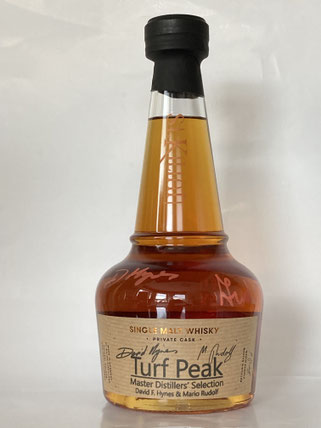 Nose
Wood smoke immediately hits the nose, followed by sweet vanilla, creamy honey and delicious caramel. In addition, there is a slightly alcoholic spiciness that is by no means unpleasant. Over time, phenolic notes with tones of antiseptic and adhesive bandage can be detected, followed by discreet herbal notes, such as eucalyptus and a hint of mint in the background.
Palate
Immediately wonderfully sweet on the palate with vanilla, honey and toffee, accompanied by ripe apricots and aromas of red berries. At the same time, the high alcohol content is evident with a distinct warmth and noticeable peppery spiciness in the mouth. Subtle peat smoke hovers over it and perfectly combines the intensely sweet and spicy notes.
Finish
The finish is long lasting and creamy sweet with caramel, fruit jam and a hint of herbs with subtle campfire smoke towards the end.
With water
Less smoke on the nose after the addition of water. The alcoholic bite is also tamed, as expected, allowing bright ripe fruits and dark caramel to emerge. A touch of herbal notes in the background. A little less sweet on the palate, some honey and caramel with apricot fruit and red berries. Pleasantly warming with subtle smoky notes. The finish is still long and creamy with honey sweetness, berry jam, some caramel and slightly dry oak notes towards the end.
Comments
This special bottling from St. Kilian is convincing all along the line. A wonderful composition of smoke, sweetness, ripe fruit, peaty flavours and spicy notes make this single malt a full-bodied, aromatic and complex pleasure experience. It is one of the best whiskies I have had the pleasure of tasting from St. Kilian Distillers so far. Great job David F. Hynes and Mario Rudolf!
I thank St. Kilian Distillers for the complimentary sample!