ABV
55.3%
Region
Germany
Bottling
Distillery
 
Cask type

Palatine Oak (11%), ex-Sauternes (27%), ex-Bourbon Casks (62%) (7,500 btl.)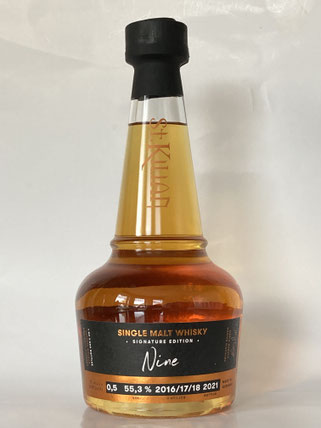 Nose
Beguiling fruity notes on the nose with ripe apricot and juicy peach, plus a hint of grapefruit. This is accompanied by sweet toffee and custard, in harmony with floral notes, some ginger as well as spicy oak.
Palate
A sweet and full-bodied fruity start on the palate with peach, pineapple and grapefruit, followed by creamy honey, custard and toffee. Warming notes of spicy oak, some ginger and a pinch of cinnamon towards the finish.
Finish
The finish is long-lasting, pleasantly warming and creamy with caramel and sweet almond biscuit, plus some grapefruit zest with a hint of walnut towards the end.
With water
After adding water a little less fruit on the nose with more floral notes, toffee, spicy oak and tart grapefruit. The sweetness of caramel and honey on the palate remains, with the fruit notes being pushed into the background. Also, tones of almond, spicy oak and cinnamon towards the finish. The finish continues to be long and creamy with dark caramel, slightly dry notes of oak and a hint of walnut.
Comments
This ninth release of St Kilian Distillers' Signature Edition features for the first time single malts matured in ex-Sauternes casks, which bring out beguiling notes of yellow, ripe fruit. The German oak from the Palatinate provides a nice dose of spice and forms a lovely balance to the vanilla and toffee notes from the ex-Bourbon casks. The result is a luscious, richly flavoured and complex single malt that will find many friends.
I thank St. Kilian Distillers for the complimentary sample!