ABV
48%
Region
Speyside
Bottling
Distillery
 
Cask type

American Oak Barrels, Ruby Port Pipe Finish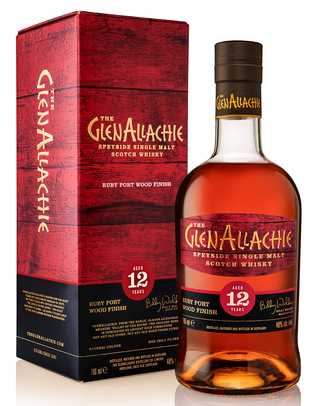 Nose
Fruity on the nose with red grapes, peaches and some banana. Notes of toffee, honey and a hint of ginger in the background.
Palate
Sweet start with honey and red grapes, but then warming and spicy with oak, ginger and a hint of cinnamon. Some toffee with slightly bitter orange peel towards the finish.
Finish
The finish is long and creamy with toffee and red grape jelly. Becomes increasingly dry towards the end with oak, ginger and a pinch of cinnamon.
With water
After adding a few drops of water, noticeably spicier on the nose with oak and ginger. Also some red grapes, honey, toffee and slightly bitter orange peel. The spicy warmth on the palate is clearly tamed and allows the fruit sweetness of red grapes to come more to the fore. Toffee, honey and a little cinnamon are added. The finish is a bit shorter with caramel and little grape jelly, accompanied by dry oak and bitter orange peel.
Comments
An intense single malt with a complex flavour. The finish in Ruby port pipes delivers notes of red grapes, but also spicy tones. Overall, the spicy and dry, fruity flavours predominate and clearly lack the creamy sweetness that I would have liked.
I thank The GlenAllachie Distillery for the complimentary sample and the photograph!