ABV
53.8%
Region
Germany
Bottling
Distillery
 
Cask type

ex-Acacia (2%), Palatine Oak (9%), ex-Rioja (19%), ex-Bourbon (27%) & ex-Rye Whiskey Casks (43%) (8,888 btl.)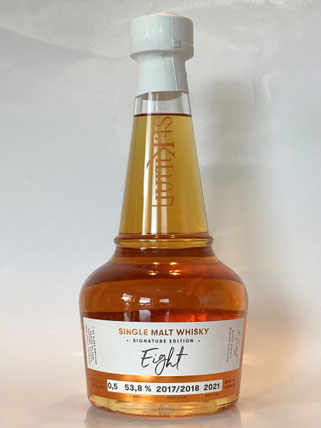 Nose
Crispy bacon with sweet malt, plus intense campfire smoke and aromatic peat. Some red grapes, subtle citrus and vanilla cream with notes of spicy tobacco leaves, liquorice and a touch of ash in the background.
Palate
Powerful, intense and full-bodied on the palate. Wonderfully sweet notes of honey, malt sugar, caramel and red grape jelly, accompanied by vanilla cream. Warming peat smoke with spicy tobacco and a hint of dark chocolate towards the finish.
Finish
The finish is long with creamy honey, dark caramel, sweet peat smoke and a hint of liquorice towards the end.
With water
After the addition of water spicier on the nose, along with subtle citrus notes, creamy vanilla and a hint of leather. The peat smoke is somewhat softened. The palate continues to be sweet and creamy with honey, vanilla and caramel. Slightly spicy and noticeably less warming with a hint of red grapes and dry smoke. The finish is medium to long with dark caramel and dry notes of spicy oak and smoke.
Comments
This eighth release of the Signature Editions by St Kilian Distillers is a distinctly smoky version with 54 ppm (measured in malted barley). In addition to intense peat smoke, this bottling shines with a wonderful balance of sweetness, fruit and spicy notes, which are consistent and form a harmonious single malt. Certainly something for the cold evenings, best enjoyed in front of a cracking open fire.
I thank St. Kilian Distillers for the complimentary sample!