ABV
48%
Region
Speyside
Bottling
Distillery
 
Cask type

American Oak Barrels, PX Sherry Cask Finish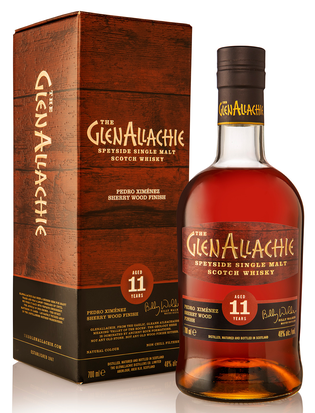 Nose
Sweet start on the nose with sherry, sultanas, dates and orange peel. In addition, brown sugar, honey, caramel and slightly floral tones. In the background, somewhat spicy notes of nutmeg and oak.
Palate
Sweetness on the palate with sultanas, sherry, caramel and honey. This is joined by pleasantly warming spices of oak, nutmeg and a hint of pepper, followed by ginger and dark chocolate.
Finish
The finish is long with honey and cocoa, then spicy with drying notes of orange peel, espresso and some oak.
With water
After adding water, continues to be sweet on the nose with honey, brown sugar and dates. Added floral notes, a slight oak spiciness and some herbs. Less sweet on the palate, but clearly more oak spice and peppery notes, accompanied by toffee and dark chocolate. The finish is still long with spicy oak, nutmeg, sultanas and espresso notes.
Comments
A full-bodied single malt with wonderful sherry flavours, sweet sultanas and warming spices. Together with notes of honey and dark chocolate, it ensures a lively pleasure experience. Pleasantly sweet, harmonious and eminently drinkable. However, by adding water, the spicy side of the whisky takes over.
I thank The GlenAllachie Distillery for the complimentary sample and the photograph!