ABV
55.2%
Region
Germany
Bottling
Distillery
 
Cask type

ex-Garrison Brothers Bourbon Cask, ex-PX Finish (#5996, 431 btl.)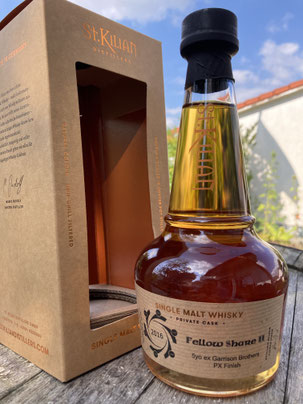 Nose
Lovely sweetness on the nose with caramel and vanilla, accompanied by ripe peaches, red apples and red grapes. This is joined by sultanas and brown sugar, with a hint of spicy oak and a touch of tannins in the background.
Palate
Powerful attack on the palate with sweet and fruity notes of juicy peaches, apples, red grapes and sultanas. In addition, strongly warming with a slightly alcoholic spiciness. Once the warmth fades, creamy vanilla and toffee emerge, accompanied by spicy oak and some white pepper.
Finish
The finish is medium to long, warming and creamy with caramel and sweet honey.
With water
After adding a few drops of water, a little more fruit on the nose, also lots of toffee and vanilla. But the alcohol is also more noticeable. Sweet and warming on the palate with toffee, grapes and sultanas, with clearly less alcoholic heat. The finish is medium long, creamy, slightly warming and a little dry with milk chocolate, grape skin and a touch of tannins.
Comments
This five-year-old single malt from a bourbon cask with a finish in a PX sherry cask convinces with its balance of fruit, sweetness and spice. If the alcoholic bite is too strong for you, you can safely add water. Then the dram becomes even creamier, with the sweetness and fruitiness remaining the same. Another successful private cask bottling from St Kilian Distillers.