ABV
46.2%
Region
Islay
Bottling
Distillery
 
Cask type

American Oak & Oloroso Sherry Casks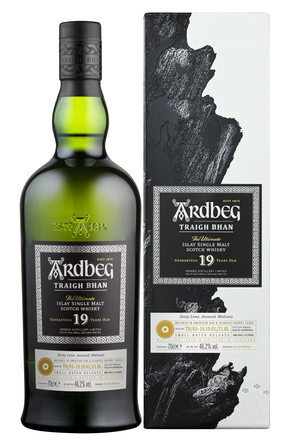 Nose
Wood smoke mingles with sweet vanilla, fresh citrus notes and white pepper. There is also a hint of fried bacon, tar, floral notes, some herbs and aniseed.
Palate
Sweet start on the palate with brown sugar and burnt caramel. Warming smoke, tar, a little vanilla, citrus notes and aniseed.
Finish
The finish is long, warming with wood smoke, clove, a touch of lemon zest as well as lightly bitter and dry oak notes.
With water
After the addition of water, noticeably more intensity on the nose with peat smoke, a touch of sherry, herbs, some celery and white pepper. Further sweet on the palate, less warming with aniseed and some oak spice. The wood smoke is hardly noticeable. The finish is still long and clearly drier with oak, smoke and soot.
Comments
A surprisingly sweet and tamed Ardbeg with significantly less peat smoke than expected. The flavours show a nice interplay, integrated in warming wood smoke. Complex and rich. The influence of the sherry casks is only marginally recognisable on the surface, but fits the positive overall impression.
I thank Moët Hennessy Germany for the complimentary sample and the image!