ABV
56.7%
Region
Germany
Bottling
Distillery
 
Cask type

ex-Garrison Brothers Bourbon Cask (#123, 107 btl.)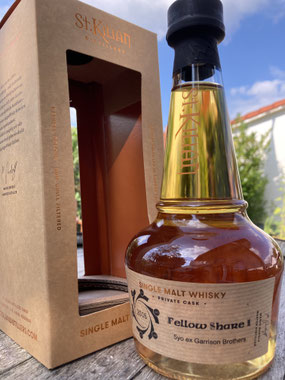 Nose
There are immediately tropical fruit aromas on the nose like pineapple, white peach, apricot and pear. In addition, a citrus freshness is noticeable paired with sweet vanilla, toffee, sultanas and a touch of almonds. In the background, slightly spicy notes of oak and white pepper.
Palate
Sweet and fruity on the palate with notes of pineapple, apricot, pear and citrus. At the same time warming with a slightly alcoholic bite, plus white pepper and spicy oak. As soon as the warmth fades, sweet vanilla, lemon cakes and vanilla biscuits emerge.
Finish
The finish shows medium length with creamy vanilla, fruitcake, malt sweets and toffee.
With water
After the addition of water, clearly less fruity on the nose. Sweet vanilla and toffee are joined by fine herbal notes. Noticeably spicier on the palate with pepper, oak and a touch of ginger. Less warming but also less fruit with a hint of vanilla and some pear towards the finish. The finish is still medium long, creamy with apricot jam, toffee and dry oak spice.
Comments
My first St Kilian single malt from a single ex-Bourbon cask and it tastes delicious. Wonderfully sweet and fruity with a spicy counterpart and slightly alcoholic bite. The flavours are nicely balanced and become increasingly expressive over time in the air. This 5-year-old single malt once again shows the enormous potential of this German whisky distillery!