ABV
51.7%
Region
Germany
Bottling
Distillery
 
Cask type

ex-Sherry PX Casks (27%) & ex-Sherry Oloroso Casks (73%) (5,700 btl.)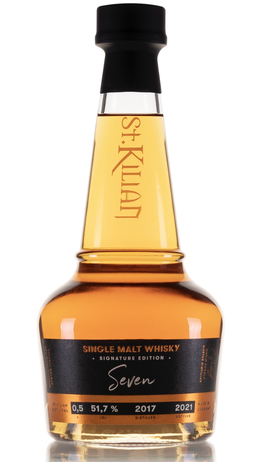 Nose
Initially sultanas on the nose, mixed with dark fruits soaked in dry sherry. In addition, ripe peaches, walnut and discreet herbal notes, primarily sage and mint.
Palate
Dry sweetness of sultanas, dark fruits and walnut on the palate. This is accompanied by ripe peaches and creamy malt sweets, with warming hints of aromatic oak, fresh mint and sage.
Finish
The finish is long and creamy with a spicy warmth, accompanied by fine sherry notes, honey, malt sweets as well as ripe walnut.
With water
After adding a few drops of water, there are noticeably more herbal notes on the nose, along with more ripe walnut, dry sherry and the delicious sultanas. More spicy and tingling on the palate with oak and a touch of pepper. Creamy malt sweets with a little less walnut and herbal notes towards the finish. The finish is still long, creamy and warming with dry sherry and a hint of oak.
Comments
This seventh Signature Edition from St. Kilian pleases with a nice balance of sweetness and nuttiness, which, together with the dry sherry aromas and herbs, create a beautiful harmony in the glass. Perfectly bottled at a slightly higher drinking strength, which also allows playing with a few drops of water. No off-flavours or metallic notes that could indicate the young age. On the contrary: the alcohol is already very well integrated and the sweet, nutty and herbal notes offer the whisky lover an aromatic pleasure that already shows character and depth.
I thank St. Kilian Distillers for the complimentary sample and the photograph!