ABV
51.7%
Region
Germany
Bottling
Distillery
 
Cask type

ex-Oloroso Sherry Cask (#1086, 1040 btl.)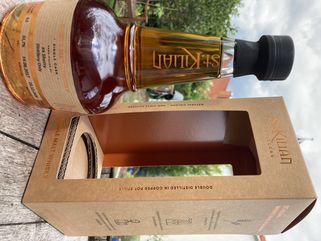 Nose
The sherry influence is immediately noticeable on the nose, with sultanas, plums and dark fruits soaked in sherry. These are accompanied by caramel and a touch of cinnamon, joined by a fine herbal note with sage, subtle oak tones and dark chocolate in the background.
Palate
Delightfully sweet on the palate with sherry, creamy caramel and dried dark fruits. Warming with a slightly alcoholic spiciness, plus dark chocolate tones and a hint of cinnamon.
Finish
The finish is long lasting and subtly spicy. Becomes increasingly dry with sherry, mocha, a hint of herbs and fine oak notes.
With water
After adding water, a little more sherry aromas on the nose, with caramel and dried fruits. A bit of cinnamon, sweetness, brown sugar and dark chocolate. Surprisingly less sweet and clearly peppery on the palate. Dry with sherry and a hint of caramel, plus notes of tobacco leaves. The finish is medium long, dry with a hint of herbs, some caramel, milk chocolate and a fine note of tobacco.
Comments
A delicious single cask bottling from St Kilian that requires no water. After only three years of maturation, the sherry cask delivers clear notes of dark dried fruits, caramel sweetness and chocolate tones that harmonise wonderfully with the maturing spirit. The alcohol is already well integrated and the flavours united. This suggests great drams to come when the whiskies of this young German distillery get older.