ABV
63.3%
Region
Germany
Bottling
Distillery
 
Cask type

ex-Bunnahabhain Staoisha Casks (#158, #159, #160, #163, 1,200 btl.)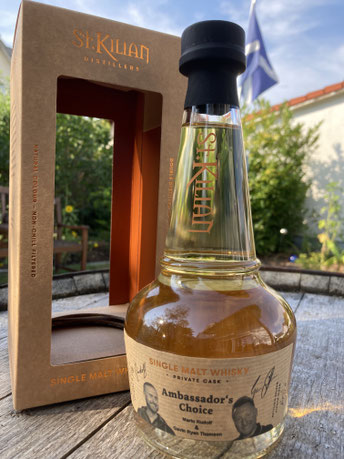 Nose
At first discreet peat smoke on the nose, which leaves plenty of room for vanilla, a malty sweetness, citrus notes and green pears. This is joined by notes of barley, toffee and fresh menthol.
Palate
An intense and warming start on the palate, accompanied by sweet vanilla, toffee and lemon balm. The alcoholic spiciness is noticeable peppery, followed by pears, barley notes and subtle smoke that hovers over everything.
Finish
The finish is medium to long with a malty sweetness and lightly salted caramel, accompanied by a touch of smoke.
With water
After the addition of water, very fresh with noticeably more lime on the nose, accompanied by vanilla, barley, a touch of pepper and subtle smoke. Clearly tamer on the palate with a yummy sweetness of vanilla, toffee and caramel. This is accompanied by juicy pears and fine citrus notes. The finish is medium long, slightly warming with a malty sweetness and a hint of smoke.
Comments
I really enjoyed this third bottling from St Kilian's Ambassasord's Choice range. The smoke from the ex-Bunnahabhain Staoisha casks imparted wonderfully subtle smoky notes to the unpeated new make after over four years of maturation, which complemented the citrus freshness, sweet vanilla notes and pear flavours perfectly to create a harmonious single malt. The strong 63.3% abv are noticeable, but not unpleasant, and also allow to play with water. Water makes this dram even fresher and smoother. A well chosen bottling!
I thank St. Kilian Distillers for the complimentary sample!