ABV
56.1%
Region
Germany
Bottling
Distillery (hand-filled)
 
Cask type

ex-Sherry PX Cask (#1282)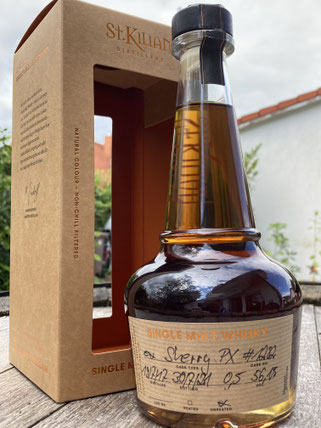 Nose
A potpourri of ripe fruits, consisting of peaches, plums, baked apples and juicy sultanas, mixes with dry sherry and a beautiful caramel sweetness. Fine herbal notes of sage arrive, accompanied by dark chocolate and a hint of tobacco leaves in the background. The alcohol is already well integrated.
Palate
Sweet start on the palate with dried fruit, plums and sultanas. This is accompanied by warming spices, a slightly alcoholic bite and some sage. Becomes drier with sherry, dark chocolate, caramel and cocoa, with a touch of green walnut towards the finish.
Finish
The finish is medium long with sage, espresso, dry cocoa, sultanas and unripe walnut flavours.
With water
After adding water, more caramel on the nose, plus vanilla, toffee and ripe peaches. Seems fresher with sherry and sultanas. Initially sweet on the palate with sultanas and dark fruits, then spicy oak appears, along with pepper, sage, some mint, caramel, dark chocolate and dry cocoa. The finish is still medium long and warming with sage, sherry and walnut notes.
Comments
This single cask bottling from St. Kilian Distillers already shows a nice balance of sweetness, herbs, spices and dry chocolate after only four years of maturation. The influence of the PX cask is unmistakable and unfolds wonderful sherry aromas that are not too sweet and leave plenty of room for fruits and herbs. There is absolutely no trace of youthfulness or even metallic notes here. A dram that develops even better with time in the glass.
I thank St. Kilian Distillers for the complimentary sample!