ABV
55.7%
Region
Australia
Bottling
Distillery (exclusively for whic)
 
Cask type

Red Wine Cask from Barossa Valley, Finish in Charred American Oak Cask (#10323, 240 btl.)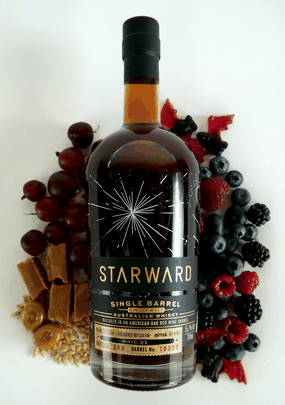 Nose
Fruity and sweet on the nose with dried fruits, jammed red berries, cherries and plums. In addition, notes of red gooseberries, some vanilla biscuits and a touch of marzipan. In the background a pinch of mulled wine spice.
Palate
Discreetly sweet on the palate with a lush red berry note. Dark fruit jam with a warming pinch of liquorice, anise and caramel.
Finish
The finish is medium long and creamy. Becomes drier with time with dark chocolate, a hint of tobacco leaf as well as a slightly bitter oak note.
With water
After adding a few drops of water, very berry and jammy on the nose with lots of red fruits, plus toffee, some liquorice and a hint of tobacco leaves in the background. Discreetly sweet, creamy and jammy on the palate with red berry fruits, caramel, liquorice and a warming touch of pepper. The finish is still medium long, slightly warming and fruity creamy. Becomes increasingly dry with cocoa, liquorice, tobacco leaf and some walnut.
Comments
Wow - this is a luscious, fruit-driven single malt from Melbourne with an almost marmalade-like structure. Very lush, but not too sweet on the palate, so that tart notes of liquorice and chocolate also come to the fore and reveal a nice balance. Due to the intense climate in Melbourne, this dram already appears very balanced and mellow after the short maturation period. A perfect whisky for dessert after a good meal.
I thank whic (Whiskycircle) for the complimentary sample and the photograph!