ABV
48%
Region
Speyside
Bottling
Distillery
 
Cask type

Bourbon Barrels, Sauternes Wine Barrique Finish (6,000 btl.)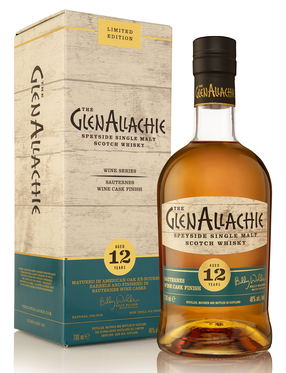 Nose
Delightfully sweet and fruity on the nose with beguiling aromas of apricots, grapefruit, ripe yellow grapes and a hint of pineapple. This is joined by notes of vanilla, blossom honey and slightly bitter grape peels. In the background, a touch of white pepper with a hint of cinnamon.
Palate
Sweet and fruity also on the palate with apricot, pineapple, grapefruit and blossom honey. In addition, a slight alcoholic warmth with a discreet peppery note and some spicy oak.
Finish
The finish is long-lasting, creamy and warming with grapefruit, a slight nuttiness, subtle toasted flavours and a touch of almond.
With water
After adding a few drops of water, noticeably spicier on the nose with pepper and oak notes. In addition, less fruit aromas, some pineapple and creamy honey. Sweet and fruity on the palate with some pineapple and grapefruit. Overall spicier with notes of cinnamon, pepper and almonds. The finish is slightly shorter and noticeably drier with slightly bitter notes of grape seeds, grapefruit and spicy oak.
Comments
This 12-year-old GlenAllachie with its finish in Sauternes barrique casks impresses with its beguiling aroma of ripe yellow fruits and a wonderful sweetness. By adding water, this is lost in favour of distinctly spicier and drier notes, so that it can be safely omitted.
I thank The GlenAllachie Distillery for the complimentary sample and the photograph!